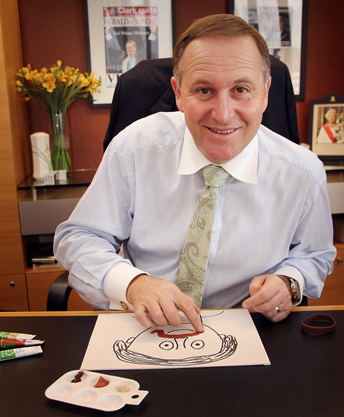 A few famous Kiwi men have got their hands dirty to help with TiMOru's Movember fundraising effort – among them, Prime Minister John Key. Mr Key, along with Auckland Blues coach and former All Black John Kirwan, boxing champion Shane "Mountain Warrior" Cameron and rally driver Haydon Paddon, showed their artistic sides by painting a Movember portrait and donating the artwork to the local fundraising network, TiMOru.
TiMOru Mo Bro co-ordinator Richard Brown said he sent emails to about 10 prominent New Zealand men in July asking them to contribute a Movember portrait. He received six responses, and he sent each of those men a packet containing the necessary art supplies, a postage paid return envelope and a letter with instructions.
The Artists were asked to sign their work and enclose photos documenting the process. Each portrait has been framed and listed for auctions on TradeMe this week at a starting price of $1.
The auctions close on Friday November 16, at 8.30pm