Over the first weekend of May 2018, 13 champion teams from throughout Aotearoa made their way to the breathtaking Millbrook Resort, Queenstown. These teams came to compete in the inaugural Mo Masters Finals: 'Weekend of Champions' – in an attempt to be named the first Mo Masters National Champion.
From September 2017 to February 2018, Mo Masters tournaments were hosted throughout the country. 264 teams competed from the first tournament to the last, in an effort to be one of 13 finalists seeking golfing royalty – a Mo Masters crown.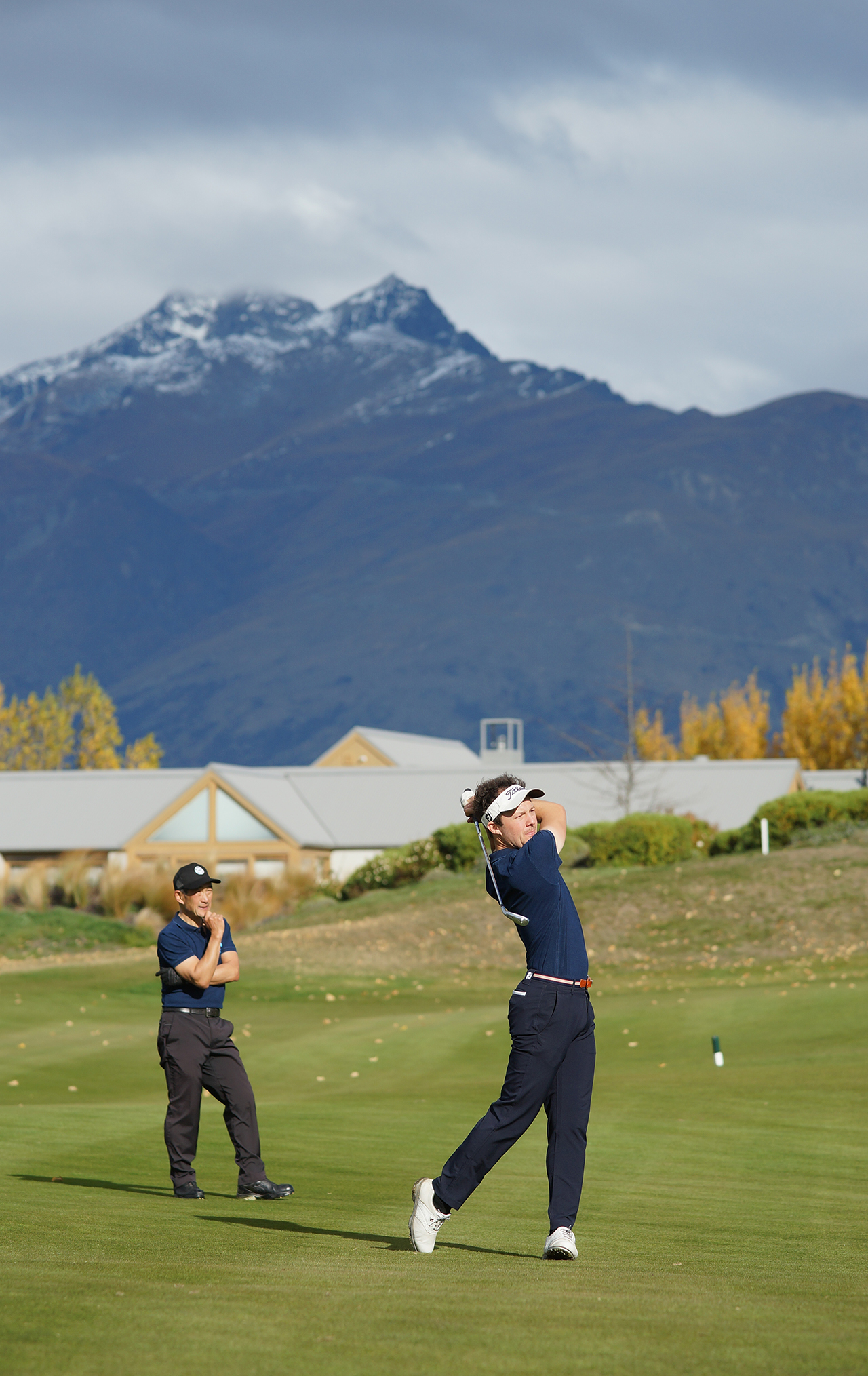 While everybody loves to win (and brag to anyone who'll listen), the Weekend of Champions wasn't simply about golf being played on a weekend. It was a chance to see a unique part of the world right on our doorstep. Plus unite the men throughout New Zealand who we campaign for each and every day – providing teams with something to remember, and giving men an excuse to make time for each other (and of course raise awareness of men's health).
The weekend was a chance for men to spend time 'with your mates, for your mates' – something some men find difficult to do regularly as they grow older. The Mo Masters is a series based on bringing male friendship groups back together – getting much-needed conversations started. And the Weekend of Champions is the pinnacle of this.
Starting with Friday drinks (where all teams were introduced) and ending with the 'Mo Masters Classic' Sunday round (during which each player spent four hours with their mates on one of the best golf courses in NZ), the weekend was a big success. Each competitor had a time to remove themselves from daily stresses – enjoying the opportunity to exercise over two full rounds, socialise and touch base on the important points of men's health.
Of course, there could only be one champion – somebody had to take the glory – and on late Saturday afternoon, a Mo Masters Champion was found in a finish that will go down in Movember folklore.
The 'Prattstars', our Mo Masters Tauranga Champions, found themselves standing on the par 5 at the 18th hole of the course, rain pelting down and light fading – needing an eagle for the win (anything less and everything they had worked so hard for would be in vain). The path was clear – they'd have to hit a monster drive, smoke a 215 metre second shot over water (to a ridiculously tight front pin), and knock the putt in. Easy, right?
Almost unbelievably, the Prattstars did just that – winning at 20 under, with clubhouse leaders 'Campbells Mo Bros' at 19 under – looking on as the 'McBeth-Morgan Trophy' slipped from their grasp. This was the perfect dramatic finish to the inaugural Mo Masters Golf Series and Weekend of Champions. A finish that each competitor will remember for a long time yet.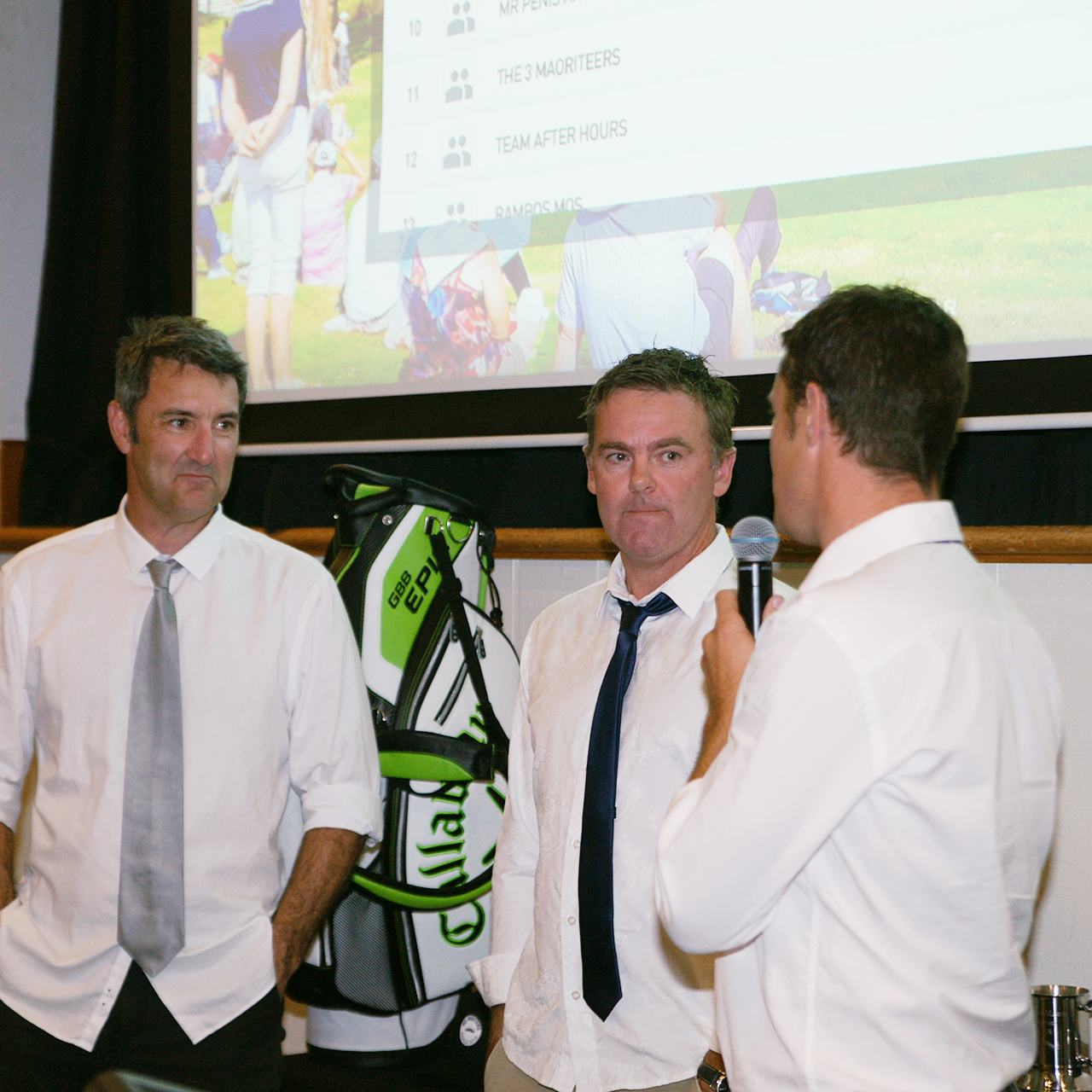 The Players Dinner was next up – requesting a shirt, tie, shorts and jandals dress code. With a few punters still dehydrated from the 18 holes earlier in the day, this was always going to be a somewhat comical affair.
The dinner was a chance for all competitors to mix and mingle – as well as take the edge off after a competitive day. Dinner was served and drinks were consumed, as each player on the field became best mates. A highlight of the night for the field was a Q & A – featuring NZ Open Champion Mahal Pearce, and NZ golfing legend Mark Brown. After a conservative and respectful start, questioning was opened to the floor. The players pushed the golf pros for the sauce on a range of topics – from what the pro tour is like, to club golf in NZ, playing under pressure, celebrations post victory, and our potential as a nation in the world of golf.
To cap off what was already a jam-packed weekend, the field competed in a Sunday individual round, the 'Mo Masters Classic', providing the players with a chance to play their own ball on a world class course – and to blow out any cobwebs before departing that afternoon. It is evidence of the experience of the weekend, that post round all teams stayed for a couple of refreshments in the clubhouse – soaking up one last chance to chew the fat with like-minded individuals, before venturing back to their place of residence.
The Weekend of Champions was a flagship of what the Mo Masters Golf Series is all about – playing golf 'with your mates for your mates', raising funds and awareness for men's health, and having a lot of fun along the way.
With any luck, the experiences each player had at Millbrook over that fateful weekend in May will be heard far and wide across the country.
With the second installment of the Mo Masters Golf Series only months away, it is hoped this weekend will go a long way towards another successful series – traveling the country while flying the flag for men's health.